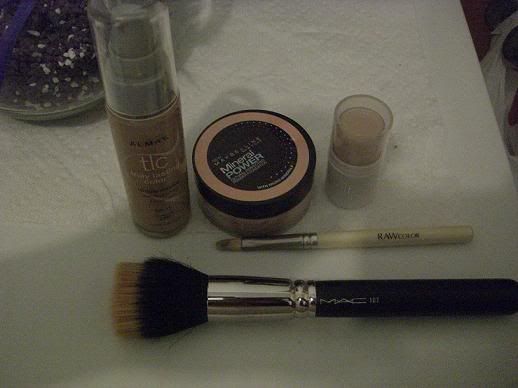 So first what i did is put my almay foundation with my 187 brush and just blended on my face in a circular motion. then put my concealer on with my RAWcolor concealer brush under my eye where my dark circles are at, then just bleaded with my finger. then next i put my everyday Mineral POWER from Maybelline, still using my 187 brush then just blending it on to my face in circular motion again.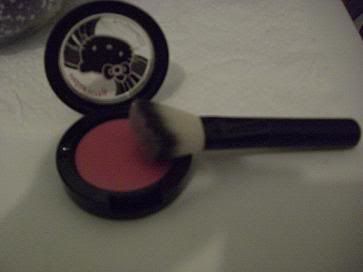 Now for the blush. I used my hello kitty blush in "Tippy" with my blush brush from coastal scent. Putting underneath the apples of my checks, then blending it with my 187 brush, so theres no harsh lines.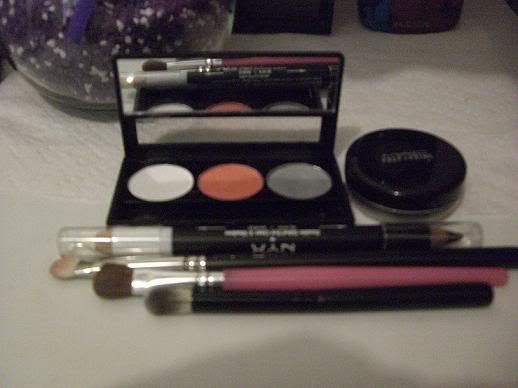 Now for the eyes. First i put my prep+prime by mac on top of my eyelids, underneath my brow bone, and underneath my eyes. Just blending it with my finger. Then i took my NYX jumbo pencil in white on to my eyelids. then blending it with my finger as well, so theres no harsh line. Then i used my mac 239, using my NYX TRIO EYESHADOW in white, then used the second color "tropical" on my eyes, making an outer V. then i used black from my 88 eyeshadow palette with my fluffy brush from coastal scent on to my eyelids, then cleaning it on to a tissue, then using the same brush just blending it. then for my highlights i used the white again underneath my eyebrow just sweeping it back and forth. with my highlight brush shown in the picture. the pink handle.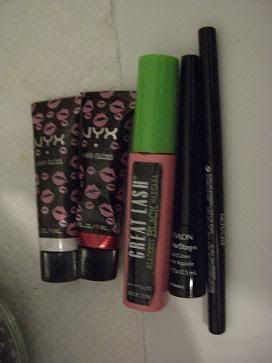 Now just using my revlon liquid eyeliner in black. just creating the cat eye look. then using my revlon crayon. putting in the bottom lid. then using my heating eye lash curler. forgot to take a pic of that sorry. then applied my fav. great lash in blackest black mascara. then last my lips i used my new NYX lip gloss in "RED" then "CLEAR" that's the name...hehe. just using my finger, make sure you wash your hand first. Then BAM!!! hehe...hope you enjoy this look i did! :)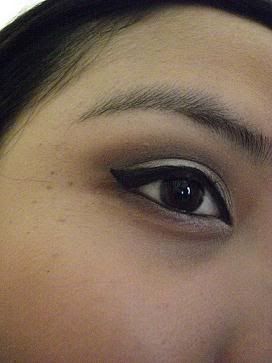 SO HERES THE FINAL LOOK!
HOPE YOU LIKE IT! :)